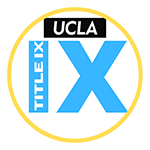 Title IX Office || 2255 Murphy Hall || Email: titleix@equity.ucla.edu || Phone: (310) 206-3417
Mohammed Cato
Title IX Director
Raised in southern California, Mr. Cato received his bachelor's degree from U.C. Irvine before obtaining a J.D. and Master's in Urban Planning here at UCLA. From 2014-2017, Mr. Cato served as the Assistant Director of the Equal Opportunity Office and Deputy Title IX Coordinator at Western Washington University. Prior to this post, Mr. Cato spent multiple years working directly with students in Western Washington University's Department of Residence Life.
Candi Smiley
Deputy Title IX Director
Ms. Smiley joined UCLA's Title IX Office in 2019 with extensive Title IX experience. Prior to joining the team, Ms. Smiley served as the Title IX Coordinator for Howard University. During her tenure there, Ms. Smiley conducted and oversaw countless investigations, created the curriculum for and facilitated hundreds of trainings, and worked with numerous campus partners to develop strategic plans and create programming with the ultimate goal of achieving an educational environment free of harassment and discrimination. Ms. Smiley earned her Juris Doctorate from the Indiana University Maurer School of Law.
Jessica Corona
Special Assistant
Ms. Corona is the Title IX Office's Special Assistant. Ms. Corona graduated from the University of California, Irvine (UCI) where she majored in Sociology and double minored in English and Business Management. Upon graduation, Ms. Corona interned with the Legal Aid Society of Orange County's Fund Development department, and shortly thereafter, attended and graduated from Notre Dame Law School, receiving her JD. Upon graduation, Ms. Corona had a fellowship with the California Charter School Association, researching education law matters and the growing demographic of charter schools and their role in education. Ms. Corona has worked with different nonprofits throughout Southern California, always aspiring to find a way to make a difference and contribute to those in need. In her last role as the Program Assistant with Kids in Need of Defense (KIND), Ms. Corona managed data, conducted client intakes, ran the intern program, assisted with office management, and served as the first contact for families looking for immigration assistance.
Crystal Thomas Lipa
Response Team Coordinator
Ms. Lipa is the Title IX Response Team Coordinator. Prior to joining the team, Ms. Lipa earned her Bachelor of Arts degree from UCLA in Gender Studies with a minor in Philosophy. Her previous career roles in the legal industry include over 15 years of civil and employment litigation experience, and as a teaching assistant as a TRAC fellow. While at UCLA, Ms. Lipa led operations to establish and collaborate with campus faculty, staff, and underrepresented and vulnerable students to expand resources and accessibility. In response to qualitative and quantitative data, Ms. Lipa spearheaded an annual symposium to promote inclusivity concentrated on students with dependents. She has bridged her experience with key stakeholders to communicate the nontraditional student experience initiating numerous policy proposals.
Sara Tropea
Investigator
Ms. Tropea joined the Title IX Office in 2019. Prior to joining the team, she worked as an Investigator at Public Interest Investigations conducting workplace and Title IX investigations. Ms. Tropea is an attorney, who spent ten years litigating personal injury, wrongful death, product liability, employment, and commercial matters, before turning her focus to investigations. Throughout her career, Ms. Tropea has been active in providing pro bono legal services; she has represented clients seeking asylum and in unlawful detainer matters, volunteered as a legal observer for Election Protection, and provided limited scope representation at clinics for domestic violence survivors, veterans, and DACA recipients. Before becoming an attorney, Ms. Tropea worked in national politics; she worked at EMILY's List helping to elect women to office, and served as a staff assistant on Capitol Hill and an intern at the White House. Ms. Tropea earned her B.A. from UCLA and her J.D. from the University of San Francisco School of Law.
Cathy Bell
Administrative Analyst
Ms. Bell came to UCLA in 1998 working in the Division of Geriatrics. In 2000 she started working in the Title IX/Sexual Harassment Prevention Office. Cathy is the first contact person for the university community and outside entities doing business with the Title IX office. She manages highly sensitive, confidential information, directs calls and requests to the appropriate Title IX staff members, manages the Title IX Director's calendar, researches data and coordinates responses with the Title IX Director, Complaint Resolution Officer and Response Team Coordinator.
Dennis DePalma
Investigator
Mr. DePalma joined the Title IX Office in 2017 as a Special Assistant. Prior to joining the Title IX Office, Mr. DePalma spent seventeen years as an employment law specialist at a variety of firms, including the firms of Seyfarth Shaw LLP and Ogletree Deakins LLP. As an employment litigator, he conducted investigations into discrimination and harassment matters, trained supervisors and other personnel about anti-discrimination and anti-harassment laws and policies, developed anti-discrimination and anti-harassment policies and practices, and mediated and resolved discrimination and harassment disputes, in addition to other matters. Mr. DePalma earned bachelor's degrees in English and Political Science from Bradley University and his Juris Doctorate from the University of Southern California.
Vanessa Himeles
Investigator
Ms. Himeles joined the Title IX Office in 2020. Prior to joining the Title IX Office, she worked as a neutral Investigator at Public Interest Investigations, Inc. conducting third-party Title IX and workplace investigations. She is also an Association of Workplace Investigators Certificate Holder (SWI-CH). An attorney licensed to practice in California, Himeles has represented employees in workplace claims of sexual harassment and discrimination, including cases based on race, gender, sexual orientation, and retaliation. Her legal practice also involved the area of consumer protection. Previously, she served as a fellow for the Los Angeles Gay and Lesbian Center's Legal Clinic, working with clients of the Anti-Violence Project. While attending Loyola Law School in Los Angeles, Himeles spent two years working to exonerate those wrongfully convicted as part of Loyola's Project for the Innocent. She earned her bachelor's degree from University of California, San Diego, and her law degree from Loyola.